2023. Holtedahlfonna - Svalbard / Norway
April 2023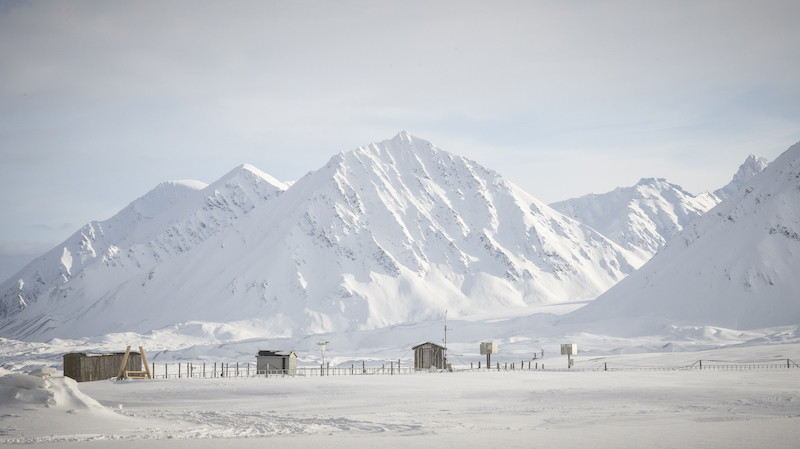 3 ice cores
130 m length
300-400 years of planet history

Team
The international team included Team members:
Andrea Spolaor, Expedition leader, Paleoclimatologist & Snow chemist, ISP-CNR -Italy

Jacopo Gabrieli, Glaciologist, ISP-CNR - Italy

Catherine Larose, Microbiologist, CNRS - France

David Cappelletti, Chemist, University of Perugia - Italy

Victor Zagorodnov, Ice cores driller, Cryosphere Research Solutions LLC - USA

Fabrizio de Blasi, Glaciologist, ISP-CNR - Italy

Daniele Zannoni, Driller, Ca' Foscari University of Venice - Italy

Jean-Charles Gallet, Snow Physicist, NPI - Norway

Federico Scoto, Snow Chemist, ISAC-CNR - Italy

Paolo Conz, Mountain guide - Italy

Riccardo Selvatico, Photographer & videomaker - Italy
Glacier
The Holtedahlfonna is located in the Svalbard archipelago, Norway. Holtedahlfonna, is one of the largest and highest glaciers in the Svalbard Archipelago. This icefield is recognized as able to provide significant and unique spatial information on a regional scale that reflects changes in the high north Atlantic. The Holtedahlfonna ice core site is also invaluable when investigating the variations in sea ice extent over the past three centuries.
The Holtedahlfonna can still provide the quality of ice that is essential for paleoclimatic and environmental studies of the Arctic Region. In other words, the history of the North, its climate and environmental activity, are trapped in this frozen library containing 300 years of archives, on the most important and fastest change on the Planet.
Result
The remote camp was set up at 80 kilometres distant the research station of Ny-Ålesund,. Those activities are expected to last a couple of days, bringing the total operation's duration to 23 days.
At an altitude of 1,150 meters in one of the northernmost places of Arctic lands (latitude 79.15 North) on the 4th April 2023, the team had been struggling against the very bad weather conditions for a few days. In very strong wind (-40°C temperature perceived due to wind chill), the team was ready to start drilling on Saturday 8th April.
They started the first deep drilling and collected the first samples. While drilling at 24.5 meters in depth, liquid water appeared in the hole. "Seeing all that water into the glacier gave us the clearest evidence yet of the effects that dramatic climate change is having in the Arctic", said Daniele Zannoni, Ca'Foscari University of Venice, one of the drillers.
Despite obstacles posed by unexpected high water content in the snow layers and extreme weather conditions, the international team was able to drill three deep ice cores on Holtedahlfonna.
The 3 collected ice cores represent an important scientific and cultural heritage in the current context of strong Arctic warming. This successful operation should ensure the analysis and preservation of a precious Arctic climate archive.

LINKS:
- GENERAL PRESS KIT
here
- Launch of the mission press release
here
- Final press release:
here
- PRESS ROOM:
https://fuga-media-stock.univ-grenoble-alpes.fr/press-room/
Updated on October 30, 2023